HOW IT STARTED
When the beyourself doors opened on April 9, 2005, an eye for detail and a lot of thought was put into the look of the boutique to portray the company's mission of promoting self esteem and positive body image for women. The store became a haven where one could feel free to express who they are without judgement.
One of the many ways beyourself promoted individuality was through their dressing room doors. Each year, beyourself asked local artists to design a door for the boutique. The only guideline being that the door's design was to align with the company's core values and promoted the mission statement. After that, they were given the creative freedom to take our story and interpret it however they'd like.
Owner of beyourself boutique, Jennifer O'dell, expressed that the expansive array of designs that artists came up with was what made this project so great. Even though they were expressing the values of the store, it was through multiple lenses. None were the same, but all were extremely beautiful.
These doors are a true testament on how we, as individuals, are all so unique and are seen differently, but our individuality is also apart of what makes us beautiful.
As for finding the artists, beyourself started by reaching out to local high schools; seeing if any of the students would be interested in designing a door. The first door ever designed for beyourself was by Michaela, who went to Skutt High School (pictured first). All the doors were designed by artists found in the Omaha area and some were even designed by beyourself employees!
"I've always been fascinated by trees and what they are a symbol of. Rooted deeply, powerful, beautiful nourishing, and grounding. They help connect us to nature and to ourselves."

- Kenna Shearman, artist.
"For me, the quote expresses everyone finding their own unique voice while still supporting and advocating for each other. I ran with a fish theme as a play on 'there are plenty of fish in the sea.'"

- Tracy Haas, artist.
"I painted this door in high school and it was really a transformative time for me. I was figuring out the type of person I wanted to be and my mother was a huge inspiration. She was and still is a single mother, who worked incredibly hard to achieve her goals and to provide a mountain of support for me. This poem, "Phenomenal Woman," by Dr. Maya Angelou spoke to my mom's independence and the underlying internal beauty that lies within all women and those who identify as women."

- Stephanie Sterling, artist.
"I was just inspired by snowflakes and how none of them are the same, but all of them are still beautiful."

- Lara Rose Kaiser, artist.
"When we opened beyourself's sister store, The Giving Tree. I felt extremely honored to design a door. We played off the seasons and the tree theme, so I had Winter. Both beyourself and The Giving Tree felt like places supporting love and growth, so I painted a tiny heart amongst the sprawling tree branches. My times at the shops will always hold a special place in my heart."

- Kylie Keegan, artist.
"At the time, I was about to be done with high school and feeling really unsure and insecure about starting college. I remember that particular lyric resonating with my little teenage self and reminding me that change is scary, but I just have to believe in myself and embrace the change. I used the butterflies because it's so easy to compare yourself to others in those time of insecurity, but at the end of the day, everyone is equally as valuable as the next despite all of our differences."

- Justine Ward, artist.
WHERE ARE THE DOORS NOW?
Since the beginning of the second remodel of the store in 2011, the doors have been in storage. This summer, we decided to show off the doors one more time before they find a forever home! The doors can now be seen in the window display of the Omaha beyourself location and will be up until the next window display change.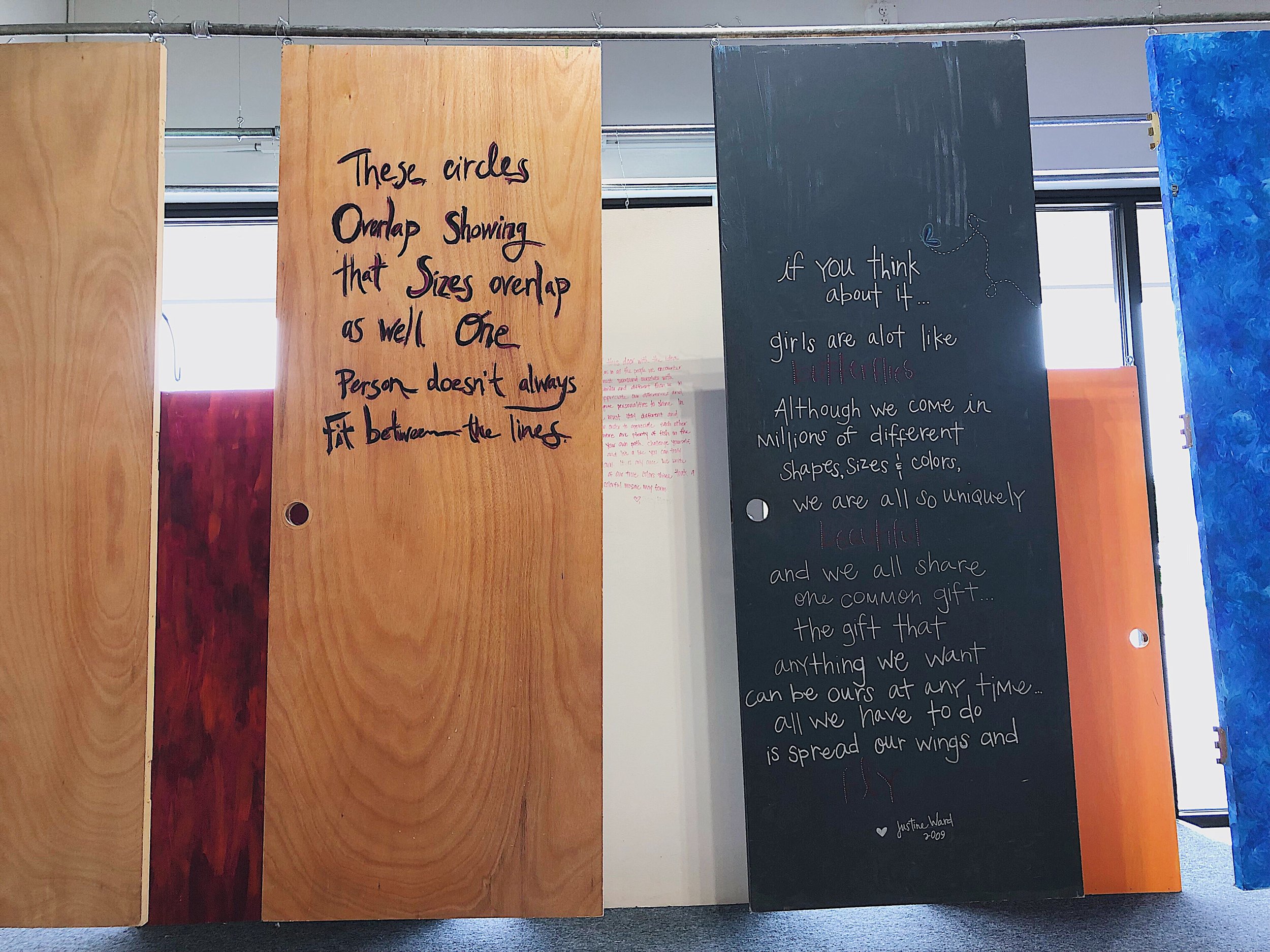 WHERE ARE THE DOORS GOING?
Once the doors are taken down, some are going back to the artists, but others are available for purchase or donation. The money from any of the doors that are purchased will be donated to help promote the arts in schools in the Omaha area. If you are interested in purchasing a door or if you know of a teacher/organization/school that would love to receive a door to display in their class room or facility, please contact us via email at beyourselfstylistprogram@gmail.com or call us at (402) 933-9584. We would love these doors, that had so much thought and love put into creating them, go to the wonderful people and places to inspire others to be themselves and promote creativity!
A huge thank you to all of the artists who were involved in the project! The doors you all designed will be apart of beyourself's history forever. We have reached out to as many of the artists as we could, but unfortunately could not find or reach some of the artists. If you happen to be one of the artists who designed a door, please contact us, so we can give you full credit for your work! If you want the door you designed, please let us know! We would be more than happy to give it back to you!
always remember to beyourself,
Allie Barnhart